We offer web hosting services for all sizes of website, from entry-level brochures to busy and demanding web platforms.
The longer your visitors spend staring at loading bars, the more likely they are to hit the back button and head to a competitor.
That's why all of our hosting packages offer fast performance and excellent uptime, with quick, friendly support for the occasions when something does go wrong. If you need help deciding what hosting package would be most suitable, please give us a call and we'd be happy to advise.
All our websites come with free hosting for the first year as standard.
Website Transfers
If you already have a website and are thinking of changing your current hosting provider, we can help with every step in the process. Learn more…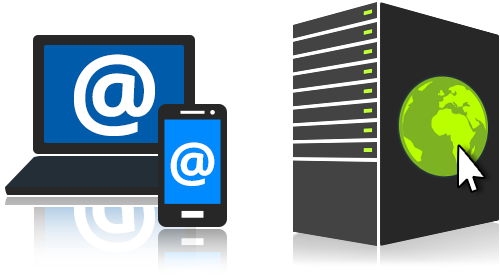 Standard

Web Hosting
Free Domain Name Registration/Renewal (.com or .co.uk)
1000MB Disk Storage
Unlimited Bandwidth
10 POP email accounts
10 email forwarders
10 group email accounts
10 auto-responders
5 sub-domains
PHP & MySQL support
2 MySQL database
Online control panel
Email & phone support
Advanced Business

Hosting
Inclusive Domain Name
Unlimited Bandwidth
Unlimited Bandwidth
25 POP email accounts
25 email forwarders
25 group email accounts
25 auto-responders
25 sub-domains
PHP & MySQL support
10 MySQL databases
Online control panel
Priority email, phone & remote support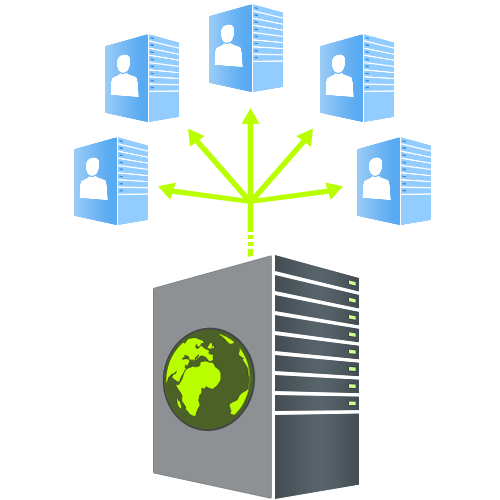 Virtual Servers
Our virtual servers offer basic functionality for small to medium sized websites, including FTP access, email hosting and a generous data transfer allowance.
Also known as shared hosting, multiple virtual servers exist side by side on a single physical server, making it a reliable yet affordable hosting option for the majority of small businesses.
For larger websites or more resource-intensive web applications, we would recommend considering a Dedicated Server rather than a Virtual Server.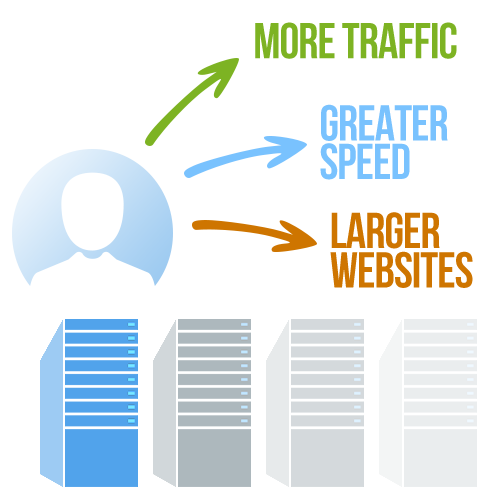 Dedicated Servers
Dedicated servers are physical servers which are exclusively used for one website, or as part of a larger web system.
A dedicated server is ideal for larger or more advanced websites with more traffic. They offer more control and customisation than virtual servers, such as choice of operating system, customisable hardware, and full access to administrative tools on the back end. Please contact us if you would like to learn more or find out what we can offer.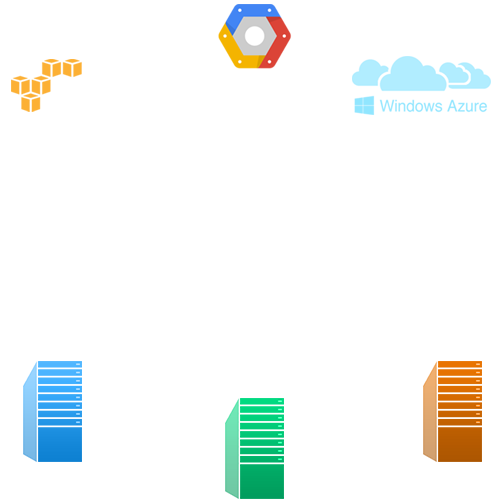 Personal Data Cloud
"The Cloud" is a type of service becoming more and more common in modern IT.
In terms of web hosting, what this means is that your website is not hosted on one single server, but shares the resources of multiple servers in a cluster – primarily processing speed, memory and bandwidth – so it can use more resources on demand if it comes under an unusual amount of load.
Cloud storage is ideal for websites which experience unpredictable or varying levels of traffic and need to be able to accommodate the busy periods, or for websites which have outgrown their Virtual Server but do not yet get enough traffic to justify upgrading to a Dedicated Server.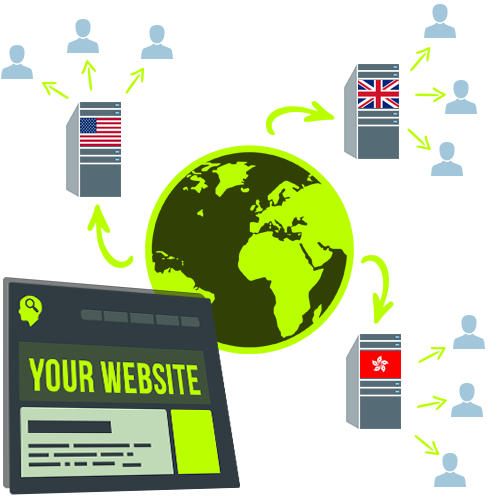 Content Delivery Network
A Content Delivery Network (or CDN) is a system of servers connected to each other, all of which host your website. Content is delivered to users from the server located closest to them, reducing the amount of time it takes for the website to load.
For example, a Scottish company which does business with international customers could use a Content Delivery Network to allow visitors around the world to access the website on a server located in their own country, thus reducing load times and minimising the number of users who give up waiting.
Transfer

Your Existing Website

If you are unhappy with your current web host, why not switch to us? We will manage the transfer to make it quick and easy, and we offer the same fast, friendly support to our hosting customers as to our web design clients.